Privacy Act Compliance
Privacy policy
CCR, a division of CCR Business Information Limited is compliant with all applicable Acts and legislation regarding the responsible collection, management and protection of personal information.
Canada's Personal Information Protection and Electronic Documents Act (PIPEDA) stipulates ten principles essential to the fair and responsible handling of personal information.
Accountability
CCR screens all employees who are also required to sign an integrity agreement ensuring the responsible and confidential handling of personal information. Extensive direction and bi-annual updates and reviews of privacy policies, current issues or changes in government policy are mandatory.
Clients, commonly referred to as members, are vetted and sign Confidentiality Agreements during the account set up process. This Agreement covers the gathering and use of personal information as stipulated by CCR's set policy and in compliance with PIPEDA. It states that the client has a legitimate business purpose for ordering the information and assures that the reports will be kept confidential by the user.
Privacy Officers have been appointed to oversee the protection of personal information and to handle any government or consumer inquiries regarding the same.
Identifying purposes
To ensure appropriate reasons for the collection of personal information, intent is reviewed by trained staff members prior to processing any consumer report order. The purpose of information collection is clearly identified on all consent forms.
Consent
In each case CCR obtains consent from the individual whose personal information is collected, used or disclosed. This consent is reviewed by trained staff members prior to processing. Information is disclosed only to parties indicated clearly on each consent form.
Limiting collection
CCR limits the collection of information to that identified on the order and consent forms. All information is collected by fair and lawful means.
Limiting use, disclosure and retention
In compliance with regulations, CCR maintains records by secure means and discloses information only to vetted member companies who are authorized recipients as stipulated on the consent form. Information is not used or accessed for any purpose other that which has been authorized by the individual in question.
Accurac
CCR minimizes the possibility of providing incorrect data when disclosing information to third parties. Information is gathered by skilled professionals, reviewed in all cases by ranking senior staff members and sources and resources are transparent in all reports.
Safeguards
Secure offices are located in a building complex with 24 hour security monitoring and patrol; security card and key entry access and ongoing onsite secured shredding of sensitive material. Report deliveries are controlled via secure member client only online access, confidential fax or email encryption. Paper documents are secured by a locked filing system behind a combination entry door.
Various multi level security systems are in place to protect all in-house, incoming and outgoing electronic information. Internal servers are protected behind secure firewalls.
Openness
Through its website and print material CCR informs individuals, clients and employees of its policies and practices for the management of personal information. Privacy Officers are assigned to offer related support services.
Individual access
When requested and upon receipt of appropriate identification, CCR will provide full disclosure to individuals of the existence, use and disclosure of personal information.
Challenging compliance
Privacy Officers are designated to receive and fairly investigate any concerns regarding information held and reported as well as any questions regarding compliance.
CCR will correct or amend personal information if its accuracy and completeness is challenged and found to be deficient. Revisions if deemed appropriate will be documented on the file and third parties in receipt of the original reported information will be advised of changes where appropriate.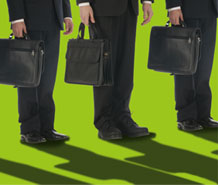 Contact Us
For more information on our services, please read more